Yes, I know, it's winter. So everyone (except for me, I live in Florida, hehe!) is probably wearing boots.
But spring WILL come eventually and buying cute strappy sandals now will save you a fortune later! Fashion magazines predict that flowers and ruffles or lace on sandals and flats will be BIG this spring & summer, so here's some recommendations:
As you can see, it's available is several colors!
Of course, the basic, simple, ballet-style flat is a staple in every closet:
Hey... can we combine the ballet flats with a gorgeous flower? I think we can!
Shown in Khaki, also comes in Brown and Black.
What about something professional, but casual, to wear to school or work?
Comes in two colors (as shown)

Or something strappy? I LOVE strappy!

Now, for a dressier sandal...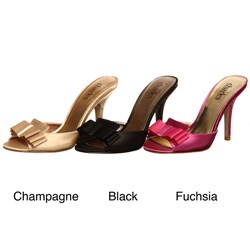 Comes in three colors (as shown)
And that's it for today's must-haves! Normally, I spend Sunday posting an entire outfit that is both affordable and adorable, but I'm going to be doing that tomorrow, Saturday, this week (seeing how Sunday will be January 1st, and I plan to be hungover!). So check back tomorrow!